2019 Volkswagen Jetta SEL Premium Review

The 2019 Volkswagen Jetta is offered in various trim levels, the highest one being the VW Jetta SEL Premium. As its name suggests, this trim comes loaded with first-class amenities and advanced technology features.
A majority of the features and specs found in the other trim levels carry over to the 2019 VW Jetta SEL Premium. With this Volkswagen Jetta SEL Premium review, we want to focus on the additional technologies and amenities you gain by driving this particular trim level.
Before you come test drive this VW Jetta trim level here at Principle Volkswagen, you can learn all about the features exclusively found in the Volkswagen Jetta SEL Premium that will give you a comfortable, fun, and convenient ride around Irving, Grand Prairie, Grapevine, and Dallas.
Exterior Features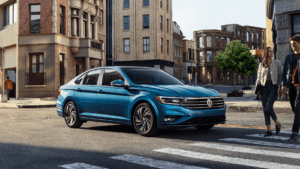 A nice thing about the VW Jetta SEL Premium is that you won't have to reposition everything after each time you let a family member borrow your car. If they needed to move the side mirrors, you can let the car readjust them back to the exact way you had them with their memory feature.
This trim also comes with fog lights with a low-speed corner-illuminating feature. This will help improve your visibility when the weather is challenging. Additional design changes are made to the exterior of the Volkswagen SEL Premium with its rear sport valance and 17-inch metallic alloy wheels.
An Extremely Comfortable Ride Wherever You Go
When sitting in the sport-bolstered comfort seats that are made of leather, you understand the premium title attached to this trim level. It also features adjustable lumbar support for the front seats. This is a great feature to have for road trips or your long commute to work each day.
When the weather gets hot, you'll stay comfortable and cool inside the 2019 Volkswagen Jetta SEL Premium, thanks to the ventilated front seats. During those chilly mornings, you can turn on the heated steering wheel and keep your hands warm.
You can also get the VW Jetta SEL Premium up and running while you finish getting ready with the convenience of its remote start system.
Get to Your Destination on Time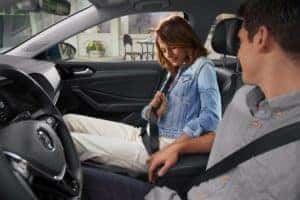 Added to the infotainment system, the 2019 VW Jetta SEL Premium comes with a navigation system. This will let you plug in an address or point of interest and get turn-by-turn directions to where you're going displayed on the 8-inch touchscreen.
You can also see your navigation guidance right on the VW Digital Cockpit. This will give you a clear view of your directions in a convenient location right on your dashboard.
The Volkswagen Jetta SEL Premium also comes with the Volkswagen Car-Net® Guide & Inform along with SiriusXM® Traffic and SiriusXM Travel Link®. This will give you more convenience and personalization to your navigation. Thanks to this technology, you can look up directions on your phone and then display them on the screen, get traffic updates while driving, and even find the nearest parking spaces or gas station.
Want to Sit Inside this Premium Sedan?
With all the luxury and added convenience placed in the 2019 VW Jetta SEL Premium, this car will give you a first-class driving experience around Irving, Grand Prairie, Grapevine, and Dallas. You can also see for yourself what it'll be like riding around in the Volkswagen Jetta SEL Premium by contacting us at Principle Volkswagen to schedule a test drive.