Best Fried Chicken Dallas TX

Is there anything more comforting than a platter piled high with perfectly golden, perfectly crunchy, perfectly tender fried chicken? We think not! Well, in the heart of the Lone Star State, it takes a time-honored, crowd-favorited recipe to really stand out from the other chickens in the coop.
By now, you're probably feeling the first effects of a wicked fried chicken craving, so we're here to help you satisfy your hankering for this classic southern dish with our list of the best fried chicken near Dallas, TX.
So, grab your grubbin' bib, bring along some friends, and get ready for the meal of a lifetime.
Brick & Bones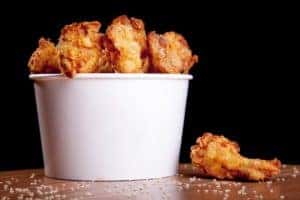 Regardless if you're looking for a traditional whole or half bird, or if you're trying to get a dose of greens in with your fried chicken feast, Brick & Bones has the ticket.
At this rustic joint, you'll cozy up to a serving of chicken fried that's brined, battered, and cooked just the way your mama made it with a little Mexican flair.
Crunch into This!
Let's face it: you're at a fried chicken joint, which means that you should a little. Well, purists and adventurous eaters alike will be thrilled to see that there are plenty of other options on this well-stocked menu.
Soul-food savants might just fall head over heels for their 10-piece Fried Chicken Bucket. These succulent morsels of chicken goodness come with a sprinkling of cilantro and radishes and a side of lime for drizzling.
Check out photos of these golden fried chicken treasures by visiting their Facebook page. But, be careful not to drool!
Celebration Restaurant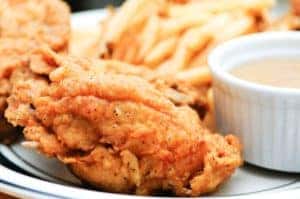 Since 1971, the Southern-steeped chefs at Celebration Restaurant have taken pride in their stance as Dallas' original farm-to-table, locally-sourced eatery. Inside the quaint confines of this well-known restaurant, you'll feel just as welcomed and comfortable as you would be in your own grandma's home.
Crunch into This!
Of course, you can't forget about the main event: fried chicken. Here, you'll dig your fork (or hands) into a dish of fried chicken that's been named the Dallas Observer Editor's Pick for Best Fried Chicken in Dallas.
Now, if you're looking for something even more decadent, check out the Chicken Fried Chicken, which stars a made-to-order, breaded and fried chicken breast that's covered in traditional or jalapeno cream gravy.
Mosey on over to their Facebook profile for more information about their catering and takeaway market!
Whistle Britches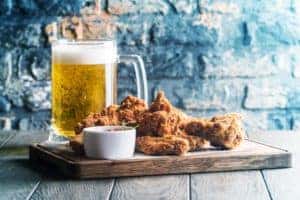 With headliners like Chicken, Biscuits, and Beer, you can trust that you'll chow down on all the classic Southern fare that makes your taste buds sing.
Thanks to Chef Omar Flores' commitment to serving hungry hoards of chicken cravers only the tastiest and juiciest chicken around, it might be hard to fight off the urge to become a permanent resident of this local dive.
Crunch into This!
From brunch to dinner, there's more than one way to get your helping of fried chicken at Whistle Britches. To start off your morning right, their signature Whistle Britches sandwich, which piles crispy, fried chicken onto flaky buttermilk biscuits and douses all that in honey butter and pepper jelly.
If you're in the mood for an all-out grub session, the Whole Bird is where it's at. While this feast takes about thirty minutes to prepare, it's well worth the wait and then some.
Upon its arrival to your table, you'll set your sights on four pieces of white meat, four pieces of dark meat, and two wings. Plus, this deluxe dish comes with classic fixings like cole slaw, potato salad, and two buttermilk biscuits.
Why wait to visit in person? Take a look at photos of the crispy chicken creations on their Facebook!
Chow Down on Some Fried Chicken Today!
Now that you're fully aware of where to find the best friend chicken near Dallas, TX, it's time for you to make a reservation for a night of grubbing. So, give these restaurants a call or swing on by for a bite to eat today!