VW Jetta MPG
Small sedans are typically known for their good fuel economy. However, the 2019 Volkswagen Jetta rises above the rest with its impressive MPG rating. This model employs many different features that are designed to maximize fuel economy in all different types of driving conditions.
On this VW Jetta MPG review, sedan shoppers in Irving, Grand Prairie, Grapevine, and Dallas will find more information about the VW Jetta and its official fuel economy ratings. We at Principle Volkswagen will also go over the efficient equipment that makes these ratings possible and how you can maximize your fuel efficiency in this model.
Read ahead to get started! Don't hesitate to reach out to us at Principle Volkswagen if you have any questions about this model.
2019 Volkswagen Jetta Fuel Economy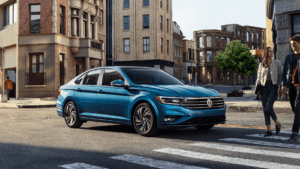 The United States Environment Protection Agency (EPA) has officially estimated that the 2019 Volkswagen Jetta achieves as much as 30 MPG in the city and 40 MPG on the highway.1 This is due in part to the light and aerodynamic design of the 2019 Volkswagen Jetta. It's also due in part to the impressive equipment under the front hood of this model.
What Can Affect Your Fuel Economy
Your mileage will vary slightly in the 2019 Volkswagen Jetta based on a variety of factors. First and foremost, your personal driving habits behind the wheel of the Volkswagen Jetta can greatly alter your fuel economy.
If you spend a lot of time in stop-and-go city traffic when you're driving the Volkswagen Jetta, you'll experience slightly lower than average fuel economy. After all, you spend more time idling than you do moving—the less miles you travel per hour, the less miles per gallon you use.
You'll also get lower than average fuel economy if you drive too fast. Driving at excessive speeds can use up a lot of your fuel at once, which means you'll cover a lot of ground initially but it won't save nearly as much for later.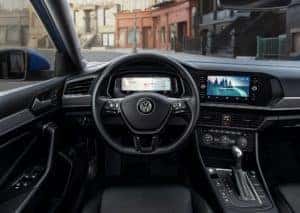 Driving at high speeds can also cause you to slam on your brakes more often. Not only is this dangerous but it can cause your fuel economy to plummet because you're using that fuel to go fast and far but are shortchanging yourself in the end.
How to Maximize Efficiency in the VW Jetta
In addition to keeping a close eye on your driving habits, there are many other strategies you can implement in order to maximize your fuel efficiency with the Volkswagen Jetta. For starters, you'll want to make sure that you keep your Volkswagen Jetta on a regular maintenance schedule.
This model uses conventional engine oil, which will need to be changed every six months or around every 5,000 miles. Making sure to keep up with this oil change schedule will help maximize your fuel economy because your engine won't be working against itself due to old engine oil.
Another important thing to consider when you're trying to maximize your fuel economy in the VW Jetta is how much weight you're carrying around. If you load your vehicle down, it'll have an effect on how efficient the vehicle is. Reduce the amount of weight you're lugging around.
One last tip for making the most of your fuel in the VW Jetta is to drive smart. Avoid stop-and-go traffic as much as possible. If you often get stuck in big traffic jams on your way to and from work, change up your schedule to reduce the amount of time you spend idling on the highway or try taking a new route.
The Equipment That Makes It Possible

The impressive fuel economy in the 2019 Volkswagen Jetta is made possible by several different pieces of equipment, starting with its standard 1.4L TSI® turbocharged 4-cylinder engine. This engine is equipped with direct injection technology, which minimizes fuel burn-off and maximizes the amount of fuel that gets into the cylinder port.
The engine of the VW Jetta works together with either a 6-speed manual transmission or an available 8-speed automatic transmission with Tiptronic® and Sport mode. Either transmission is going to provide you with the same enhanced fuel economy.
One other factor that positively contributes to the fuel economy is its light and aerodynamic body design. The 2019 Volkswagen Jetta has a curb weight of around 2,800 pounds and is designed to cut through wind with reduced drag. These factors make it easier for the engine to work, which reduces the amount of fuel it needs to use to move the vehicle.
Impressive Capabilities of VW Jetta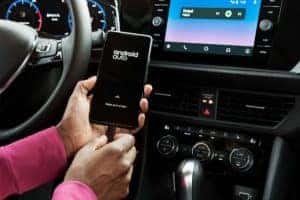 On top of being able to achieve such an impressive fuel economy, the turbocharged engine also offers a peppy power output. With this engine, you'll be able to enjoy 147 horsepower and 184 lb-ft of torque.
The Volkswagen Jetta also offers an available Driving Mode Selection system that lets you take control of your drive. Depending on what kind of feel and response you want, you can switch between four different drive modes: Normal mode, Sport mode, Custom mode, and Eco mode. Each drive mode offers good fuel economy but Eco mode makes efficiency the top priority.
One other feature that makes the VW Jetta run so smoothly is the available Cross Differential System XDS®. This feature, which comes only on the R-Line trim level, smartly applies brake pressure to the front wheels while you're turning to optimize cornering even around the tightest turns.
Experience the 2019 Volkswagen Jetta!
As you can see, the 2019 Volkswagen Jetta offers some incredible fuel economy and efficient powertrain equipment. Whether you're heading through town to the office, taking the kids to the soccer field for their next big game, or out of the state on a weekend trip with the whole family, you can count on the VW Jetta to get you there.
However, an impressive fuel economy is far from all the 2019 VW Jetta has to offer. Small sedan shoppers in Irving, Grand Prairie, Grapevine, and Dallas can experience all that the VW Jetta has to offer with us at Principle Volkswagen. Give us a call today to schedule your test drive!
1 30 city/40 highway mpg (2019 Jetta 1.4L, 6-speed manual transmission). EPA estimates. Your mileage will vary and depends on several factors, including your driving habits and vehicle condition.